VCT Stage 3 EU Challengers 1 – Everything you need to know | VALORANT NEWS
Last weekend Stage 3 kicked off around the world with the Open and Closed Qualifiers taking place in Europe for this week's Europe Challengers 1 tournament.
This qualifier acts as the first step on the way to qualifying for Stage 3's Berlin Major and the first real test for a number of refreshed teams including G2 Esports G2 Esports
Oscar Cañellas "mixwell" ColochoJacob "pyth" MourujärviAuni "AvovA" ChahadeJose Luis "koldamenta" ArangurenŽygimantas "nukkye" ChmieliauskasCista "keloqz" Wassim.
G2 Esports meanwhile, had a much easier time in the qualifiers as in their debut with their full roster they managed to breeze past their opponents without dropping a single map and with them averaging a 13-4 scoreline across the qualifier in a rather impressive run.
In the end, G2, Finest, and BK were joined by Wave Esports Wave Esports
Murat "murii" KorkmazRobertas "Carcass" MikuckisSigurd "Zik" JensenNico "Nico" NeumannMathias "SEIDER" Seider, BIG BIG
Ceyhun "AslaN" AslanFatih "gob b" DayikAlexander "alexRr" FrischNico "Obnoks" GarczarczykValentin "bishop" Canepa, Rix.GG Thunder Rix.GG Thunder
Joseph "Luzuh" LooseAaron "frei" FreiOliwer "LATEKS" FahlanderRichard "rCk" KanervaTom "otom" HartMikołaj "Mickebwoy" Chojnacki, Alliance Alliance
Enzo "Fearoth" MestariTautvydas "hype" PaldaviciusThomas "kAdavra" JohnerNiels "luckeRRR" JasiekKamil "baddyG" GraniczkaElric "juseu" Belland, and TENSTAR TENSTAR
Jack "Br0die" EmmottCalum "KRAY" KnightRussel "Russ" MendesTramaine "stanley" StanleyNiko "polvi" Polvinen to progress to the next stage of the Closed Qualifiers.
Closed Qualifier
Following this, on Wednesday to Friday these eight qualified teams joined the eight top teams from Stage 2 to compete in the double-elimination Closed Qualifiers in which the top eight passed to the upcoming Challengers 1 tournament.
With the eight invited teams of Fnatic Fnatic
Jake "Boaster" HowlettJames "Mistic" OrfilaDomagoj "Doma" FancevMartin "MAGNUM" PenkovNikita "Derke" Sirmitev, Team Liquid Team Liquid
James "Kryptix" AffleckTravis "L1NK" MendozaDom "soulcas" SulcasAdil "ScreaM" BenrlitomElias "Jamppi" Olkkonen, FunPlus Phoenix FunPlus Phoenix
Tobias "ShadoW" FlodströmKirill "ANGE1" KarasiowPontus "Zyppan" EekAndrey "Shao" KiprskyDmitriy "dimasick" Matvienko, Acend Acend
Vladyslav "kiles" ShvetsPatryk "starxo" KopczynskiSanteri "BONECOLD" SassiMehmet Yağız "cNed" İpekAleksander "zeek" Zygmunt, Guild Esports Guild Esports
Malkolm "bonkar" RenchYacine "Yacine" LaghmariSaif "Sayf" JibraeelLeo "Leo" JannessonWilliam "draken" Sundin, Ninjas in Pyjamas Ninjas in Pyjamas
Emir "rhyme" MuminovicCharles "CREA" BeauvoisEgor "chiwawa" StepanyukYaroslav "Jady" NikolaevKévin "akukhoS" DroolansBenjamin "vicious" Guilotte, Team BDS Team BDS
Logan "LogaN" CortiJonathan "TakaS" PaupardDylan "hoppY" AubeRodolphe "rodeN" BiancoAlex "AKUMAAAAA" Lo Bello, and Team Vitality Team Vitality
Vakaris "vakk" BebravičiusJokūbas "Cender" LabutisBayram "Bramz" Ben RedjebThéo "LoWkii" TéchenéJesse "JESMUND" Terävä now all joining the fray, the competition level suddenly kicked up a gear as shown by the early exit of NiP.
Despite making no roster changes this year so far and managing to previously qualify for both the Masters and both Stage 2 Challengers events, NiP definitely struggled here. After a close upper-bracket loss against Alliance (10-13, 13-11, 10-13), they then went out in two straight maps against Team Finest in a straight 8-13, 7-13 scoreline as, even though Yaroslav "Jady" Nikolaev Yaroslav "Jady" Nikolaev
Team:Ninjas in PyjamasMaps Played:123KPR:0.88ADR:151.04 achieved both the top kill count and rating, all five of Finest's players performed better than NiP's second best.
Finest themselves went on to lose 2-0 against BDS Esports in the decider game to miss out on Challengers 1 while BDS were only in the losers bracket due to a 2-0 loss of their own against the Stage 1 EU Masters champions of Acend.
After failing to even qualify for the Challengers Playoff event during Stage 2, Acend has since opted to bring on another ex-G2 player of Aleksander "zeek" Zygmunt Aleksander "zeek" Zygmunt
Team:AcendMaps Played:150KPR:0.83ADR:153.7 onto the roster which has certainly worked well for them as they remain the only team to have not lost a map during the qualifier.
Completely separately to these games saw the titanic matchup between G2 Esports and Fnatic for a Challengers spot after G2 only narrowly beat Vitality the day prior while Fnatic entered as the second best team in the World from Stage 2.
Starting on Bind, the two teams kept pretty even in the first half as Fnatic took a slight 7-5 lead on their attacks. They advanced this to 9-5 as the sides switched before G2 won eight straight rounds to take the map as Oscar Cañellas "mixwell" Colocho Oscar Cañellas "mixwell" Colocho
Team:G2 EsportsMaps Played:216KPR:0.9ADR:160.06 secured 23 kills to just three deaths across this half.
Following this, Haven then saw another close game with G2 this time taking the 7-5 offensive lead, however, Fnatic quickly tied it up and the two teams remained equal into overtime. Despite the map having been offense favoured so far, five out of six overtime rounds were won by the defenders with the lone attack win giving the map and series to G2 Esports:
Despite this loss, Fnatic did manage to salvage things in the lower-bracket with a 2-1 win over Wave Esports to ensure progress onwards to the Challenger event regardless, however, their loss is a really big message to the rest of EMEA that G2's back and a serious contender.
Challengers 1
These results mean that the eight teams of Liquid, G2, Acend, Guild, Fnatic, Rix, BDS, and FPX have progressed to the double-elimination Challengers 1 event which will run from Wednesday to Sunday this week.
Here the top four teams will progress onwards to the Challengers Playoffs to fight for a Major spot while the remaining four get an automatic invite to the Europe Challengers 2 tournament at the end of the month.
The schedule for this will be as follows:
Wednesday, 7th — The Upper Bracket Quarter Finals and Lower Bracket Round 1 games
Thursday, 8th — The Upper Bracket Semi Finals and Lower Bracket Round 2 games
Friday, 9th — The Upper Bracket Final and Lower Bracket Round 3
Saturday, 10th — The Lower Bracket Final
Sunday, 11th — The Grand-Final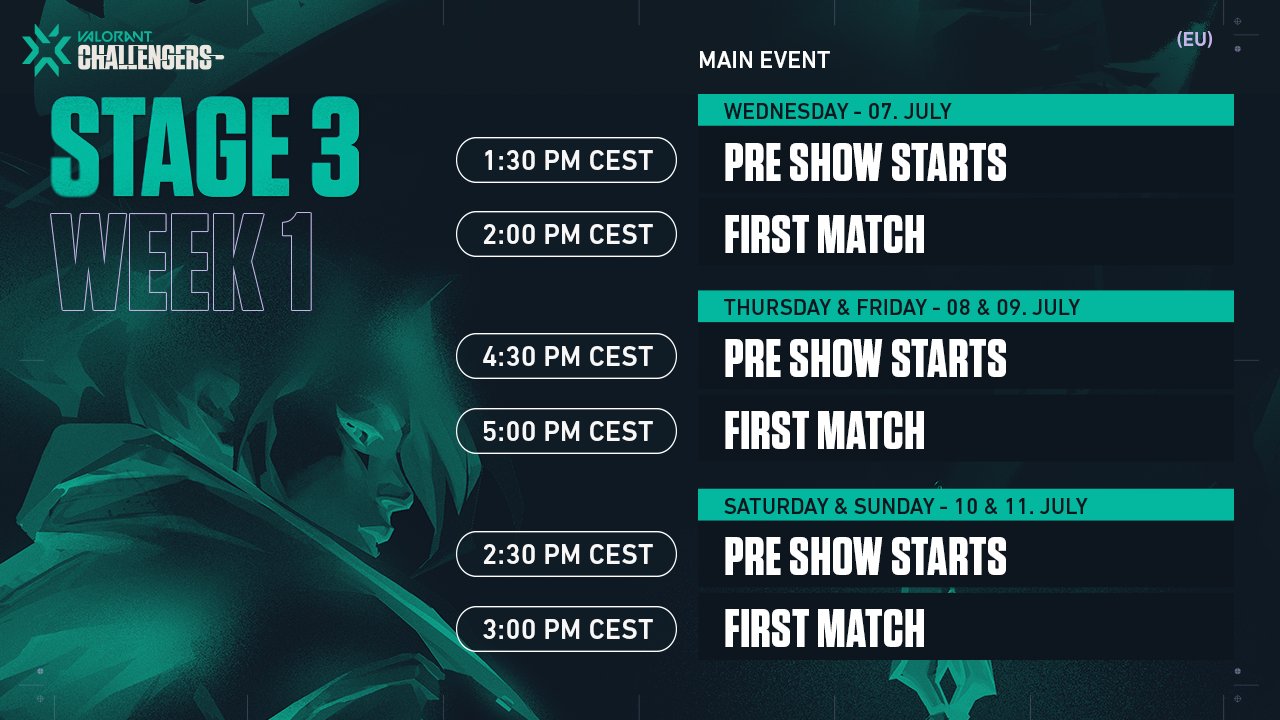 thespike.gg will cover these games as usual this coming week as Stage 3 kicks into gear with its first main event. Check back here to see the usual news and stats coverage of the games as they come.